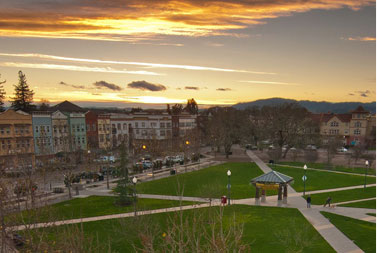 The Town of Windsor is known as a family-oriented community with exceptional quality of life. Windsor offers a variety of recreational opportunities and well-planned business areas, including an award winning downtown. The 4.5 acre Town Green is a focal point for community gatherings and is the location of the seasonal Farmers Market and Summer Nights on the Green. The Town Green is also home to many unique shops and restaurants and hosts popular events such as the Winter Wine Walk and the Windsor Day Parade.
Bell Village is a new upscale shopping center, ideally located next to the Town Green. This area houses a premium grocery store (Oliver's Market), restaurants and retail businesses.
In 2017 the Town of Windsor celebrated its 25th Anniversary. Since the Town's incorporation on July 1, 1992, its population has grown to 27,000 residents.
Windsor has earned numerous awards and recognitions!
Recent awards include:
Windsor was named in 2012 as one of America's Promise Alliance's 100 Best Communities for Young People presented by ING.
Safewise Safest City three years in a row (2014-16)
"Sustainable Business of the Year" Award by the Chamber two years in a row (2015-16)
Healthiest Companies in the North Bay (2015)
The Town of Windsor is a very bicycle friendly community and was awarded respectfully in 2015, by The League of American Bicyclists.
Things to Do
During summer months, local residents and visitors gather on the popular Windsor Town Green for a free outdoor concert known as "Summer Nights on the Green".
The Windsor Farmer's Market runs every Sunday in April through December.
The scenic beauty offers a great venue for ongoing hot air balloon festivals, including Sonoma County Hot Air Balloon Classic.
Windsor celebrates its birthday every July 3rd and features live entertainment, local food vendors and food trucks.
Every December, Windsor ushers in the holiday season with live entertainment, children's activities, and graceful horse-drawn carriages can be seen carrying guests around the beautiful Town Green. The Charlie Brown Christmas Tree Grove is an annual holiday event, which takes place on the Town Green.
Airport
The Charles M. Schulz – Sonoma County Airport (STS) is located in South Windsor. The Airport offers direct flights to Seattle, Portland, Los Angeles, Orange County, San Diego, Las Vegas, and Phoenix-Mesa.
The Sonoma County Airport has been home to the "Wings Over Wine Country Air Show" since 1997. This air show is the latest in the North Bay and attracts over 25,000 visitors.